Doseur Performus™ I
Extraits du catalogue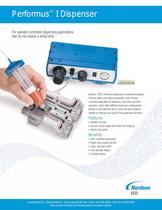 Nordson EFD's Performus dispensers increase throughput, improve yields, and reduce production costs through controlled application of adhesives, lubricants and other assembly fluids. Eight different dispenser configurations provide a cost-effective way to select the exact features needed to improve your specific fluid application process. Features • Handles all fluids • Vacuum control keeps thin fluids from dripping • Electric foot pedal Benefits • Fast, controlled application • Makes dots, beads and fills • Clean, drip-free cutoff • Less operator fatigue • Compact design For operator-controlled dispensing applications that do not require a timed shot. Guarantee Performance Performus™ I Dispenser www.nordsonefd.com info@nordsonefd.com USA & Canada 800-556-3484 Europe +44 (0) 1582 666334 Asia +86 (21) 3866 9006 Sales and service of Nordson EFD dispensing systems are available worldwide.
Ouvrir le catalogue en page 1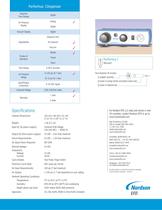 Specifications Cabinet Dimensions: 183 mm x 86 mm x 51 mm (7.22" W x 3.38" D x 2" H) Weight: 1 Kg (2.2 Lb) Input AC (to power supply): Universal Multi Voltage 100-240 VAC~ – 50/60 Hz Output DC (from power supply): 24 VDC – 0.83 Amp maximum Power Requirements: 24 VDC – 1.04 Amp maximum DC Input Power Required: 8W-20W Internal Voltage: 24 VDC Footswitch: Voltage: 24 VDC Current: 20mA Cycle Initiate: Foot Pedal, Finger Switch Maximum Cycle Rate: 600 cycles per minute Air Input Requirements: 100 psi (7 bar) maximum Air Output: 1-100 psi (1-7 bar) dependent on user setting Ambient Operating...
Ouvrir le catalogue en page 2
Tous les catalogues et fiches techniques (PDF) Nordson Efd

Catalogues archivés

Comparer jusqu'à 10 produits